What makes up a brand? Is it a catchy name, a cool logo, or some bold colors? Is it a set of values that you hold near and dear? Is it a network of instantly recognizable products? Is it an attitude that you have when it comes to customer service? Is it a vision that guides your corporate decision making? If you ask 10 different people, chances are you'll get 10 different answers on what a brand can be.
But when it comes to Tom Rowe and the Fantastic IT brand, the name of the game has always been customer service. Whether the company was a one-man shop in a dusty Southern California garage, or a modern managed-service provider in the Los Angeles metro area, the core brand remains dedicated to the clientele it serves. Over the years we've changed the nameplate, the company, and the structure, but the goal of building strong relationships with our clients as tech consultants, not just IT guys still permeates all aspects of our business today.
Many Moons Ago…
Southern California, 1998 – Tom Rowe starts doing freelance work out for his garage, addressing basic IT support and easy fixes for home users and local businesses. Mr. Rowe grew his client base thanks to fast, friendly customer service and a proactive approach. In just 8 short years, Fantastic IT (then TRowe) saw steady and sustainable growth on a per-project basis, setting the future tone for success and expansion.
In 2004, the team made the decision to transition the firm into a true Managed Service Provider role. Under this new structure and model, Fantastic IT services clients on a proactive, monthly fixed-cost basis. By creating a one-stop-IT-shop, Fantastic IT built an ecosystem where small business owners could increase their productivity without worrying about tech issues.
Tomorrow's IT Firm, Today
Fast forward to 2016 – the leadership team rebranded the company to Fantastic IT, a name that reflects the fantastic service they aim to provide for their clients everyday. The team took a ground-up approach to the rebrand; our goal was to create a brand image that resonated with our current clients yet attracts future business. We didn't want to slap a new logo on the company, make some tweaks here and there, and call it a day – we redesigned the entire brand experience from scratch.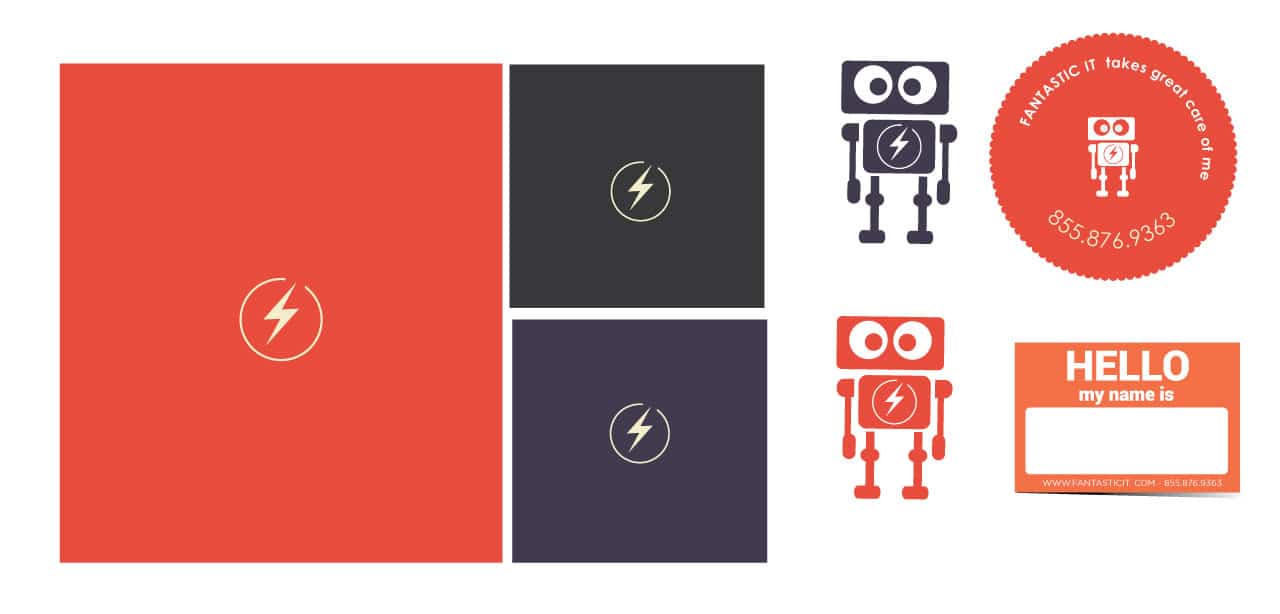 Together with the help of some professionals, we worked hard to update the look and feel of the brand to channel the vision that Tom has carried with him on this journey. We sat down and put in the hours collaborating on color and content. Our team developed a new mascot, Reboot, to give the company some personality that people could connect with.
We rebuilt our website from top to bottom, with features like a support ticketing system, multimedia blog, social integration, and specific landing pages. Fantastic IT's new brand is sleek, polished, and professional – all reflections of their proactive, solutions-minded philosophy. Despite the new look, we didn't stray too far from the utility, simplicity, and values that our customers have come to love over the years.
Fantastic IT is here to serve companies big and small, taking the IT dirty work off the shoulders of business owners so they can focus on their brilliant work instead. Instead of just installing some hardware, connecting some wires, and collecting checks, Fantastic IT is here to help you understand your tech operations. We tailor solutions to your business while educating you on the details that matter. No jargon. No hidden fees. Just fast, friendly, fully-managed IT solutions. 24x7x365. One flat monthly fee. We're here to make your IT Fantastic.
About Fantastic IT
Fantastic IT is more than just a managed service IT company – they're trusted advisors and partners that diagnose, fix, and solve the toughest IT problems. Whether it is proactive tech management, real human customer service, or lightning-fast support, we're here to make IT fantastic for just one flat monthly fee. Find out what Fantastic IT can do for you today.